It doesn't matter if you live in Brooklyn, in Long island or in Westchester County, if you are planning to purchase a new garage door, whether it is a residential garage door for your home, or a commercial overhead door for your business in New York. Because purchasing a new garage door is something that you shouldn't do more than once every 15-30 years, and to achieve that, you need to find a good garage door supplier in New York, and you need to find someone who install garage doors in New York, and it will be best if he is a professional. Luckily you found Matalonco Garage Doors, who offer same day garage door services including repairs and new garage installation in New York.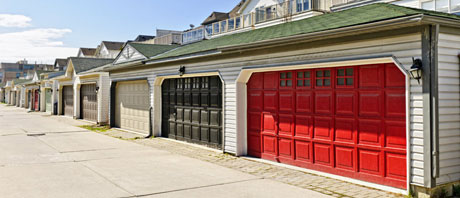 Repair the door or replace it?
Sometime the answer to the question whether to repair or to replace is obvious. If someone hit the garage with a car, or if the garage is too old, rotten or not safe for use, replacing it will be the best solution. Or on the other hand, if the door can be repaired, like broken spring, opener repair, cable that snapped or anything else like that, then you can repair it for minimum cost, and get the door working again.
But things aren't always that simple, and sometime there is a decision to make whether to repair or to replace the door. We are displaying a list of reasons that may help you choose to replace the door:
If the door is not safe for use.

If the repair will cost more than 50-70% of replacing it.

If the door is rotten or will need many repairs soon.

If the garage is at the front of the house and look old.

If you want an insulated door, in case the current one isn't.

If you want a better door.
Which garage door do you recommend?
There are so many types and kinds of garages, that it will be impossible to recommend about a certain design or a certain color. But what we can do is to recommend to invest in quality. The difference between an insulated garage, and a hollow door is not as big as the gap between the ways the doors are going to operate like. When you consider the fact that you may be buying a garage door that will work for so many years, you may want to consider to invest in a high quality garage. Since not only that the door will last longer, you will notice the difference with the insolation, the smoothness of the way the door operate, and how quiet it will be.
What is the price of a new garage door?
The million dollar question. And we will gladly answer it, if someone will tell us what the price of a house, a car, a kitchen or a gate is. We hope you got the joke. There are so many types of garage doors that the price can start from as low of 300% and raise up to a million and even more. So it is impossible to give a fixed price that will include all the garages in New York. The best thing for you to do will be to contact a garage door supplier in your area, who will come and show you all the options that you may have. Or you can find the garages online and see catalogs from leading brands such as: Amarr Doors, Clopay, Wayne Dalton and others.
Last words about the price, when you think that the door will serve for so many years, do not try and save few dollars at the wrong place. The difference between a strong and reliable door that will work for years, and a door that will require service every few months can sum with 100-200$. And when you consider the prices of all the repairs, sometime it is better to invest in quality.
How to choose a garage door?
There are many things to consider when purchasing a new garage, and by answering few questions, it may make it easier for you to narrow the options, and get closer to the right garage door for you.
What is the purpose of the door to the garage?
How often will you be using the door?
Where the garage is located, front of the house or back?
Do you need a window section?
Is the garage attached to the house?
What is the size of the open?
Is there a frame, and what is the condition?
What is the structure of your garage? Low head room?
Do you need a garage door opener?
What kind of spring system?
This is not a complete list, since some garages serve different purposes than other. A garage that will be used few times a day, or commercial garage door require different materials and parts than a single garage door that you plan to use once or twice a day. But a good garage contractor should be able to provide you with recommendations and examples that will answer all your needs.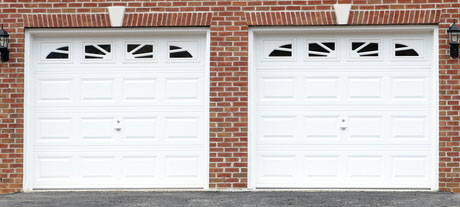 Do I have to install a garage opener?
You do not have to install a garage opener. There people who prefer to use their door manually, and they simply don't need an opener. The opener is a way to open the door remotely and electrically, whether it is with the remote, with the wall switch, with the Key Pad or from your car. But there are garages which have another access from a side door or from inside the house, and that the owner doesn't use the garage to park the car, and those garages doesn't necessarily include an automatic garage opener.
Another important thing to note is that replacing the garage door doesn't necessarily mean that you have to replace the opener as well. If the opener is still working, and if it is include a safety feature like requested by the law, you may want to consider to use the same opener for the new door.
Are there different types of openers?
Of course there are different types of openers. You cannot expect a residential garage door opener like the ½ Horse Power Lift Master opener, which can fit a single garage door in Scarsdale to fit a commercial garage door in Brooklyn. Just like you do not need a 1 H.P heavy duty chain drive opener for a single car garage door. There are many openers in the market, each size was designed to fit a certain garage.
Chain drive or belt drive opener?
The answer is simple. If you want your opener to work silently, and the noise level is important for you, go with the belt, which cost little more, but there is a reason why the name it "Whisper". If the noise level doesn't matter to you, or if you even prefer to hear the garage open and close, the chain drive will be good enough for you. The only different is with the noise level, which lower dramatically when the steel chain is replaced with a rubber belt.
Does the new garage also need to be maintained?
Lately we hear from our customers that there are garages that do not to be maintained. And we would like to answer that and say that we recommend to maintain every garage door. There may be some people in the market who will tell you that they sell doors that don't require maintenance and that the door will work for ever. We prefer not to refer to that, and we will stick to our recommendation: Lubricate your door every 6 months. This is the only way to ensure it is going to continue and work like it does.
Do you sell garage doors or just install?
We do both. We are proud to say it all the time: If it is a garage door, or a gate repair in New York, we can fix it. We sell, supply, install, maintain, repair and inspect garage doors and openers in New York. We offer same day service in New York for garage doors and gates including emergency repairs for garages, gates and openers.
For garage door installation New York
Call now: (800)-673-7917